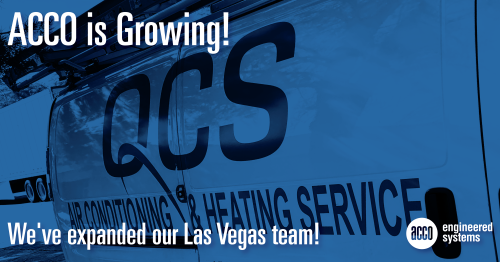 This week, Sunbelt Controls' parent company, ACCO Engineered Systems, completed the acquisition of Quality Controls Systems' Las Vegas HVAC service and building automation controls business.
This strategic move instantly adds highly trained signatory HVAC technicians to ACCO's local team and a book of business that features maintenance contracts with some of the largest commercial real estate developers and property managers in the Las Vegas metropolitan market.
"The addition of these new ACCO team members will have a significant impact on our Las Vegas HVAC service business by bringing in an established roster of clients that we've competed on over the past six years. In the next few years, we expect that this team will be responsible for a 20-30% increase in our combined book of business across HVAC service, maintenance and repair," said Bryan Cooper, Las Vegas Branch Manager, ACCO Engineered Systems. "There will also be a noticeable impact on our local building automation controls subsidiary, Sunbelt Controls. With the acquisition of QCS, Sunbelt Controls becomes the sole distributor of Automated Logic products in the Las Vegas area."
In addition, ACCO and Sunbelt Controls gain the behind-the-scenes support of QCS's experienced administrative team and an assortment of tooling that will improve the efficacy and efficiency of local operations to further establish both brands as the Southern Nevada market leaders in their respective fields.